| | |
| --- | --- |
| NEW Products | |
Overview
The products recently released continue our strive for supplying a range of matching components which are
highly integrated,
make lidars more compact
and help to automate lidar measurements.
All products share a unified Ethernet interface for easier deployment and programming.
Multispectral Lidar Detector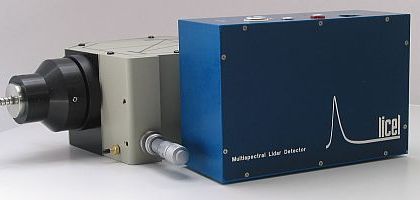 The Licel multispectral lidar detector allows simultaneous detection of multiple spectrometer wavelengths. It is based on a multianode, metalchannel- dynode photomultiplier. 32 photocathode elements together with 32 single photon counting systems provide 2-dimensional, spectral and range resolved data. The Detector module can be combined with various flat field spectrographs.

Documentation - Installation and Reference Manual
The LabVIEW sources require LabVIEW 2010 Base Package or higher.
Software - C Sources and Sample Application

The Sample application is compiled for usage under Windows OS.
Super-Bialkali PMT Module
We have packaged the new Super Bialkali PMTs from Hamamatsu using our stabilized dynode chain and the PMT housing with integrated interface to the Thorlabs lens tube system. The new cathode material offers 34% QE at 355nm compared to 27% of the previous R7400 tubes.

Air Cooled InGaAs APD Module
The Licel InGaAs APD detector is now available in an air cooled TEC package. The 200ìm diameter detector can be cooled down to 0°C and is packaged using the same form factor as our Si- APD module.

---
Back to index